Today was the day it all started. On June 29, 1914 Archduke Ferdinand and his wife Sophie arrived in Sarajevo to dedicate a state museum, unaware that the Black Hand had been at work arranging an attack meant to protest Austro-Hungarian rule over lands the organization believed should be unified as part of a Serb-speaking homeland. That morning the Archduke's party had travelled by train from Ilidza Spa to Sarajevo where the met the governor at the station and proceeded n a motorcade of six Graf and Stift Double Phaeton open convertibles.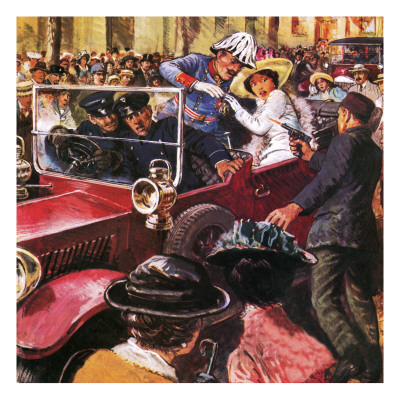 The first stop that morning was for an inspection of a military barracks. At ten o'clock the motorcade left the barracks and passed by the first would-be assassin in front of the garden of the Mostar Cafe who failed to detonate the bomb he'd been armed with. At ten after ten the car of the Archduke approached the second assassin who threw his bomb which bounced off the folded top of the convertible and landed in the street where it exploded under the next car and wounding a number of bystanders.
Alerted that all was not well, the motorcade sped away leaving the Archduke's would-be killer to the mercy of the Sarajevo police and a mob of angry citizens. The Archduke and his wife arrived at the Sarajevo town hall where, after protesting "Mr. Mayor, I came here on a visit and I get bombs thrown at me. It is outrageous!", Franz Ferdinand gave a speech while still bloody from the botched bomb attack.
Inexplicably the Archduke and his party continued from the town hall at ten forty five, travelling along Apple Quay toward the Sarajevo hospital where they planned to visit those injured in the bombing. Due to a miscommunication, the driver took a wrong turn and they ended up on Franz Josef Street. When he noticed the error, the governor of Sarajevo who was sharing the royal car ordered the driver to stop and return to Apple Quay. He stopped to turn around near Schiller's Delicatessen near the Latin Bridge, directly in front of where the final assassin was waiting.
The fatal shots were fired from a distance of just over five feet with a Belgian 9x17 model 1910 semi-automatic pistol. The first shot struck the Archduke in the neck and the second struck the Duchess in the abdomen. Both died while being driven to the Governor's residence for medical treatment. The days and months that followed would see Russia, Germany, France, Belgium, and England enter a conflagration that would become the Great War, World War I.